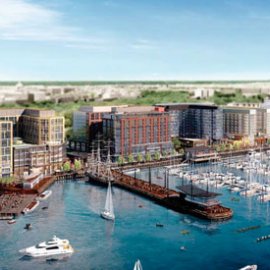 Civilization was built by the sea. The 20th century waterfront was an accumulation of functions that were best placed on or near the coast. As populations grew, demands emerged with greater impactful consequences. In this episode of World Ocean Radio, host Peter Neill will ask, "What will a 21st century waterfront look like? What will benefit the future welfare and health of urban populations? How will we make it work for us as a necessary and fulfilling reality in the future?"
Listen to the episode
here
and you can listen to previous episodes
here
.
World Ocean Radio, a project of the W2O, is a weekly series of five-minute audio essays. Peter Neill, Director of the World Ocean Observatory (W2O) and host of World Ocean Radio, provides coverage of a broad spectrum of ocean issues from science and education to advocacy and exemplary projects.
Photo courtesy of World Ocean Radio