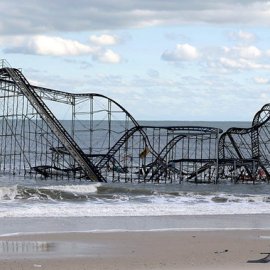 Superstorm Sandy posed many questions to those who deny the implications of sea level rise and other factors associated with changing climate. It has become evident that we can no longer protect ourselves from the cause and effect of climate change through indifference, contrived ignorance, and lack of action.
In this episode of World Ocean Radio, host Peter Neill suggests that Sandy may have generated a growing force among citizens and leaders that may result in the critical thinking and courageous planning, design and implementation of physical, financial, and societal structures - that will be the revolutionary shift in thinking and acting that is required to truly answer Sandy's questions.
Listen to the episode
here
and you can listen to previous episodes
here
.
World Ocean Radio, a project of the W2O, is a weekly series of five-minute audio essays. Peter Neill, Director of the World Ocean Observatory (W2O) and host of World Ocean Radio, provides coverage of a broad spectrum of ocean issues from science and education to advocacy and exemplary projects.
Photo courtesy of World Ocean Radio